NEW-Danelectro Cool Cat CD-1 Distortion True Bypass Effects Pedal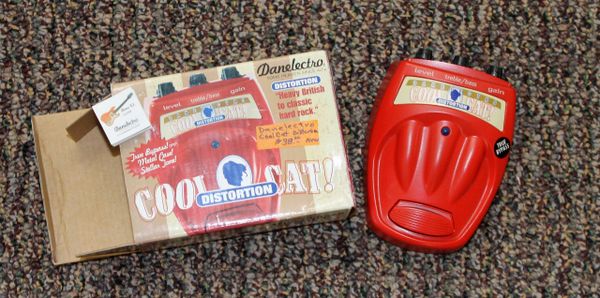 NEW-Danelectro Cool Cat CD-1 Distortion True Bypass Effects Pedal
The Cool Cat Distortion from Danelectro gives you a metal stomp box for the price of a plastic one. If you're finicky about tone, the Cool Cat will have you purring.

Feature:
True Bypass (3PDT)
Metal case
Metal jacks
Controls:
Level
Treble/Bass
The Cool Cats are battle-hardened gig machines with metal casings and jacks, true bypass, flip-panel battery access, and a footswitch that operates with a confident and brutish click.
Each Cool Cat is powered by a 9-volt battery or an optional AC adaptor, and offers three controls. On some pedals, the middle-position control is a dual-function concentric knob.
On the Distortion ($49 retail/$39 street), that knob is Treble/Bass, and, like the EQ sections of recording consoles, it can boost or cut fixed treble and bass frequencies.
As the controls are set on each pedal's front panel—rather than on top of the box—it's a bit counterintuitive making adjustments from directly above, as you must turn the Level and Gain knobs to the left for more juice.  —Michael Molenda, Guitar Player
Excellent condition.  New in original box.